travel
Travelling Long Haul with Babies Checklist and Tips
Hello my lovelies!
We are heading off to New Zealand for four months and we're sooo excited! All four of us, myself, my man and our two gorgeous girls aged 6 months and nearly 3, are embarking on a very long journey! We live in France so it's basically the other side of the world. That is a full 24 hours away!!! Some may think we're crazy, but it is our dream to revisit our favourite place in the world. We met there and I even got pregnant with our first baby girl, Tara, over there so it will be a nostalgic trip and we are over the moon to have the opportunity. We have always missed there and didn't think we would get a chance to go back but we made it happen! Woohoo 😀
So it is worth every hour of travel to finally get back there and see our old friends and of course, the sheer beauty of the stunning country that we love so much. We have had a good bit of time to organise this as we have known we are going for quite a long time, however it is indeed our first time travelling long haul with babies! We have both done the trip numerous times as singles, having lived there and travelled back and forth frequently. We know it is a hard slog and mentally tiring as well as physically draining. So we want to make this as comfortable and easy-going as humanly possible for everyone. I have decided to compile a list – as I do since I love the lists. Especially for this kind of thing, as there are just too many things to remember and I have a head like a sieve. So I have done a good bit of research and also came up with a cunning plan to make this a smooth sailing operation.
Here is my checklist and some tips I have gathered –
Packing:
Samsonite case. We are going for four months so we need a large and roomy case. After much searching and bargain hunting online, we managed to grab a Samsonite hard cover suitcase. My partner has used this brand in the past and they are top quality and extremely durable. We kept an eye out online for a sale and decided to go for an extra large size in bright red. The reason we chose a bright colour is so that we can easily spot it when it comes onto the luggage belt. It also has swivel wheels so its easy to move around while standing upwards in a queue, for instance. Another reason is because we will be making this trip annually which means it needs to be a good quality. The hard cover also protects the goods inside from getting bashed too much, as we know those baggage handlers just throw them on the racks. We see that happen regularly so just a thought!
Trunki ride-on suitcase for kids. After much deliberation and humming and hawing about bringing a pram for our toddler, we decided to forgo the pram. We already have to bring one for our 6 month old so we chose one of these little pull-along suitcases instead. We had looked into the possibility of buying a new concept type of fold-out bed that attaches to the plane seat but unfortunately our airline don't accept those. I heard so many fab review about these Trunki cases from friends and online forums etc. about the kids loving them so went ahead and bought during their sale. Thanks to the lady in my online Mums group that informed us of that! It cost EUR 35 so considering she can use it up until the age of 6 it should be worth it and then our other little girl will no doubt get it. There is not that much room inside but its enough for a few items of clothes for the plane, some toys, a blanket, soft toy for sleeping and a few utensils so really ideal for carry-on as its lightweight. It arrived today and we are going to keep it hidden until departure day so that it'll be a big novelty! Maybe I will hide a bunch of toys and sticker books etc. in there for when we get on the plane. It can be carried over your shoulder like a bag with the long strap attached to the other side when not being wheeled or just carried by the handles.
Delsey Vanity case. Lucky me, for Mothers Day I got a surprise gift of a gorgeous vanity case to store all my makeup and lotions etc. It is a really great brand that my man chose (well done!) without any help from moi as a surprise so I was chuffed as its a robust and large size so perfect for travelling. Note: I have a serious amount of cosmetics! I can't help it, I'm obsessed haha! His grandmother used this particular brand so he knew it was a good make and I have to say the quality is fantastic so it should probably last forever by the looks of it.
Van Chi Nappy/Diaper bag. I managed to find a great bargain with this one. It is an Australian brand and the great thing about these bags is that they look really stylish, like a normal handbag! I was searching for a bag that I could use for both a nappy bag and a going out bag and this is ideal. From experience of having to use two separate bags for dressing up and just going to the supermarket or park, it was a nuisance having to transfer everything and then transfer back. So I found this gem. It has lots of room and comes with a stylish baby change mat, bottle holder, pacifier purse, detachable plastic bag and has loads of inner and outer pockets so perfect for the busy (and stylish) Mum who looks like she has got her shit together haha. At least it looks that way! The bag is always a mess on the inside for me but that is cos I'm a messy person. I just throw everything in but if you use it properly it can be so well organised! Long strap hangs over the back of the pram or your shoulder and is detachable and the shorter straps can be slung over your shoulder or forearm so it is a great all-rounder.
Backpack. A good quality comfy backpack is essential as its easy to carry so perfect for hand luggage, the size is right and it won't hurt to carry. This one is ideal. I love Jansport as I had one all through college and after that my younger brother used it for school. So comfortable and so so durable. Also, very stylish and if you're carrying a laptop or iPad its best to have backpack that has a specific compartment to protect and cushion it. Plus you will have to remove it at all the security checks and this way it makes things easier on you.
Backpack with a rein. I have had my reservations about this and my man thinks it is a ridiculous concept but to be honest I am going to give this a go! I have heard many people say this was a lifesaver at the airport for stopping toddlers running off and disappearing into oblivion. My mum brought one over from Ireland that she found in Lidl and said that she spoke to several mums that swore by them. It is a little cute backpack with a lions face on that apparently kids love as its their own little bag, but it has a little strap with a loop for you to hold so that you can stop them running off. So it has been in the cupboard for over a year now but I'm going to bring it in case. It gets very crowded in airports so I want to be safe. Not saying it'll work since my toddler does not like restriction. This should be interesting! Ill keep you posted as to how that goes haha. In fairness, she is always running off and never listens to Mum so its worth a try.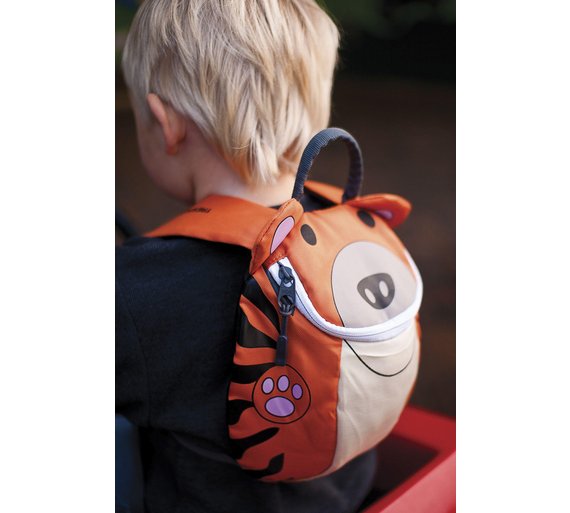 Baby carrier. I would recommend a good quality and comfy one for the fact that you can have your hands free. My little snuggler loves being held so I probably will end up with her on my lap most of the time. At least with a carrier, I can still do what I need. She can sleep in it too, when not in the bassinet and when the pram isn't available, it is good to have. I will use it on holidays anyway so that is on my list. The one I have can be adjusted to fit a newborn to an older baby and has a rain and sun cover.
What to pack for the plane journeys:
Assess your carry-on luggage and see how much room you have to work with. I will have my nappy/diaper bag. Tristan will have his backpack, Tara will have her Trunki and little backpack and thats it. I will assess which has enough room for all the changing gear. To avoid name confusion and make it easier for anyone trying to arrange for babies of a similar age, I will call my 6 month old darling Lucie, Baby no.1 and my almost 3 year old sweetie, Tara, Baby no. 2.
Here's what I need to fit in:
8 nappies for baby no.1, 6 pull-up training nappies for baby no. 2
Large pack of wet wipes and a pocket size pack
Nappy bags x 15 since they're not taking up much room
A few plastic bags for rubbish or anything else
2 baby bottles for baby no. 1 and 1 bottle for baby no.2
2 containers for baby milk for baby 1 and a ziplock bag of formula for baby 2 with a scoop measure
A plastic drink cup for baby no. 2
3-4 pacifiers for baby 1 and 2 for baby 2
A bottle cleaning utensil – silicone
Snacks and drinks for baby 2
A travel first aid kit – it will do for the holiday too
Sweets or snack bars for bribery – works a treat
Muslin cloths, a small towel and disinfectant wipes
All these items will be dispersed into the bags depending on their importance. I will keep a couple of each baby nappies in my diaper bag at all times including one of baby 1's inside the nappy change mat along with the small pack of pocket wet wipes so that if I need to change a nappy quickly, I can just grab the change mat with everything I need in there, instead of having to haul the big bag with me plus its hard to carry a bag and a baby through the aisle. I have done many a trip with baby on a short haul flight so this works for me. No bashing anyone with my bag, at least! Having crying babies on a plane is one thing, but bashing passengers with your bag is a whole other level of annoyance haha. Spare yourself!
Cash and spare change. I always have some cash or spare change on me for the plane. Its a lot handier than having to take out your card if you want a beverage or snack. I know most of these things are covered on a long haul flight, but you never know. Then there is the airport changeover or stopover and the vending machines for water etc. There's always something on the way there too! Always have your back card on you since you never know what will arise, plus foreign currencies at stopover airports will require a card transaction unless you have planned well ahead and budgeted well in foreign currency cash. Either way, you really never know.
Games and puzzles. My toddler loves a good puzzle so thats something to keep her occupied and anything interactive can be a great distraction when needed. Depending on the age, there are lots of travel games. The magnetic kind are best as those pieces will probably get lost otherwise. Another thing to keep in mind with puzzles and small toys is not to spend too much money on expensive ones as most of the time they end up under seats or lost. Building blocks are a great distraction however so maybe just bring a handful of lego or Duplo. Sorry airline staff!
Sticker books and fun to read books. My toddler loves sticker books and she gets great mileage out of them. Worth every penny. We have started collecting those aswell as random peel off stickers. I will grab a few nice books before we leave too. She adores being read to so always a good bet. A sketch book for drawing and some crayons will be handy also.
An iPad or phone with baby apps will be an absolute lifesaver if you can arrange it. The iPad is probably the best source of fun in terms of all the great baby apps that are free to download plus we will have her fave cartoons on there backed up for her to watch at any time. This should really be top of the list. Whatever about baby not using phones or iPads, that is out the window when you are desperate. Which you most likely will be! Just a thought. You can always use it in intervals so they don't spend all their time staring at the screen.
Headphones. Its a good idea to bring along your own comfortable headphones as the ones on the plane are actually terrible quality and really uncomfortable. Noise cancellation ones are basically the best ever! We just got out second pair of wireless ones and they are pure bliss.
Blankets and neck pillows. Fleece blankets are great. We have a lovely one from Red Castle which baby gets folded into and wrapped up like a snug little envelope. Both babies loved it and its so handy. Machine washable and ideal for travelling. Baby no. 2 will have a lightweight but warm fleece blanket for comfort as it is one she uses at home but the airlines provide extra blankets so that should be fine. The neck pillows I'm going to but are for neck support and have tonnes of great reviews and are compact and clever called Trtl neck pillow. Keep you posted.
Things I read about and am going to try out –
A mystery bag for our toddler, containing various random toys that I can pull out of the bag like a magician when needed.
A fruit-feeder dodie which is a pacifier with a little mesh thing attached for baby no. 1 to suck on during takeoff and landing with fruit to help their ears.
A silicon feeder with soft spoon
A blow -up cushion which transforms a seat into a bed for baby 2 to sleep called the Lovely Sprouts travel pillow and leg rest. I found it whilst searching for a bassinet cover and it looks like the answer to our problems for getting baby no. 2 to sleep! Check it out! Its handy to carry and lightweight, blows up in 60 seconds and is approved for the airline. It can be easily moved when needs be or deflated when not in use. So clever. Im going to buy this, since it's not expensive and has a lifetime guarantee. It doubles up as a leg rest for the airport! Great reviews too and I suppose if she's not using it, one of us can relax and put our feet up. We will prob take it in turns to sleep or with any luck, at least on the night flight we might all nod off at the same time. Fingers crossed!
A bassinet cover? I was recommended one of these as baby no. 1 will be in a bassinet but I couldn't find any cheap ones, they were all nearly a hundred quid after delivery charges. I was keen to get one but I can't justify spending that! If I feel I really need one afterwards I will look for a cheap one in New Zealand. I have a sun cover for the pram which is universal but I would need a bar to attach to the bassinet for that to work. I'll come back and update as to how I get on. I know planes can be bright so might be worth having if you find a cheap one.
Clothes:
Okay so we're going for 4 months, I'm not going to list everything obviously, as it may not be relevant but I will list what I'm bringing for the long haul flights and stopover etc. I believe I will be needing the same amount of clothes as baby needs per day, which is 2 baby grows, long-sleeved as the air con is cooler on planes, especially at night. Two slouchy trousers, rather than leggings as they are easier to change. She still goes through 6- 8 nappies a day on average. There are 3 days of travelling including a stopover so thats 6 baby grows and 6 comfy trousers. I will bring a sleeper/romper suit for each day too for bedtime so thats 3 sleeper suits with cotton and not too warm as I will have a fleecy blanket. A few pairs of socks. These will be packed in the big case except for one days worth of clothes and a couple of extra long sleeved tops that button under for flights to our first stopover. Those can go in the backpack as there is plenty of room and put in a plastic bag so that there easily accessible in the bag.
Change of clothes for baby no. 2 will be 2 comfy pairs of tracksuit bottoms and 2 long sleeve teeshirts. A zip-up hoody and a fleece top. A set of cotton pyjamas. A tip would be to have their fave cartoon character on. Minnie Mouse, in my girls case. It makes getting changed into bedclothes a lot easier. She also connects this with bed or sleep time which is keeping with the routine so a good idea for a night flight.
Change of clothes for mum and dad will consist of a long sleeved cotton teeshirt and a pair of tracksuit bottoms each plus a fleece or zip hoody/cardigan and a scarf in case it gets cold. Flight socks are an option but I tried those before and they weren't that comfy so I will opt for slouchy socks and a pair of cotton slippers.
For the stopover I will check the weather forecast for that time of year. We are stopping in Singapore so it will be warm, around 26 degrees on average, but not too hot so thats good since the weather can be stifling there. Its known to be humid so I will be packing light clothing for everyone. Cotton is always good bet and ideally stuff that doesn't crease too much! I try to buy all my clothes versatile so a pair of light denim stretchy jeans for me – I still wear maternity jeans but they look like regular jeans they are just so comfy. I still have my baby pouch/mum tum so they're ideal and they have a button fixture that can be reduced and increased as well as an elasticated band on the side. They are black so they go with everything and I have two pairs so they will do. A couple of teeshirts and a going out top, like a nice flowy long top that doesn't need to be ironed. A light cardigan and a lightweight rain jacket (just in case!).
The babies will have their clothes that I mentioned earlier plus a light raincoat for baby no.2. I have a rain cover for the pram so thats fine. It fits in the pram bag. Tristan, my man, will have a change of clothes. He travels very light and wears casual clothes most of the time so he will be fine and just have an extra hoody or light jacket, all packed at the end so that we have easy access to our stopover clothes without disrupting the rest of our packing. Its best since it can be a real pain having to repack everything after.
Toiletries for the plane and stopovers:
I have a lot of travel size containers for shampoo, conditioner, face wash, liquid soap (for cleaning bottles, etc.) and baby wash. You can buy these at most big supermarkets/convenience stores or online. I also collect travel size ones whenever we stay at hotels as they come in handy for travelling. Subscription boxes often contain miniatures too so try and save these if you happen to get them. I will pack my full size cosmetics in the vanity in the large case and anything that may risk spillage will be contained in a zip-lock. That is from experience with lots of backpacking and highly recommended. Toothbrushes and toothpaste with those little brush covers are handy if you can get them or else store them in a container or ziplock. We have a fold down cosmetic bag which is handy again for travelling as you can hang it on the back of the door and see where everything is in the mesh pockets. This is great for ease of use. I will have a smaller separate bag for a one-off trip to freshen up on the plane when I wake after the night flight in the nappy bag as it is just handier and less bulky. I always pack a good all-in-one balm and a separate lip balm when travelling. I tend to have small bit of makeup too for arriving at the airport so that I can feel better. I usually look like something the cat dragged in after a long haul so its a little pick-me-up.
All travel documents and photocopies of all documents. All passports, visas, insurance and any other documentation can go in the backpack which Tristan will be in charge of (best to have one handle those things and one mind babies at check in etc.) and all photocopies will be seperately stored in a pocket or folder in the check-in luggage. Just in case, I like to have these as a precaution. It is always advised. If you ever lose your passport, a photocopy can save your ass. Remember that!
Some recommendations when planning ahead of your trip with baby/babies:
Check the bassinet regulations as to what weight, age limit and size they are, depending on the airline. They do vary so its worth checking out.
Book your bassinet in advance, if possible. Some airlines don't allow it, but some do and it is a first come first served basis in those cases.
If it is first come first served on the bassinet front and you aren't allowed book in advance, get to the top of the queue – meaning arrive early to check in!
Confirm with the airline if there are any food intolerance issues or allergies, in advance of travel
Try and aim for a night flight if possible, since the kids are more likely to sleep then. Makes life a lot easier!
Figure out your stopover times and transfer times between airports. Expect delays with queuing for security, toilet stops and general airport walking distances. You might be surprised how long it takes to get from one area to another. If you are relying on public transport to get you there, leave yourself plenty of time. Stay ahead of the game and be diligent. Plan it well.
Either arrange getting on the plane first or else last. Having so many things to carry, including babies and all the organisation that goes with it, this is the easiest option. Getting on first means you have more cabin space for your bags, plus you can mention to staff that you would really appreciate being seated together in a row etc. if thats not the case for any booking reasons. Apparently they are very accommodating to families whenever possible.
Try to arrange your transport in advance for getting from your stopover or destination to your hotel or accommodation. At least you won't be panicking and you will probably know the handiest and cheapest route, so less hassle when you arrive.
Choose a family friendly stopover destination or airport for in between flights, if possible. We all know what its like when they get bored! At least we are lucky that we are staying a night in Singapore. It is really family friendly with activities etc. and the airport is the best in the world. Check it out for yourself here. We made the most of the rooftop swimming pool on our layover and it was the most amazing thing to have after a long flight! A dip in the pool, enjoy a jacuzzi and a lovely sun lounger to relax on with a drink. Bliss. Don't forget your swim wear.  They even have a butterfly garden and places to recharge all your devices. Love it. Here's where we are staying in Singapore (will review and recommend later).
If you save your air miles you can use them for some hotels and restaurants or an upgrade eventually so join up for the air miles program with your airline.
I would go over the area I'm sitting in on the plane with a few disinfectant wipes just to be extra careful before settling in. I would have some handy to do a quick clean on arrival.
Order your meal ahead if you don't like something on the menu on the day, otherwise you may get stuck with whatever is left!
Hopefully, you will be all set with this list. If there is anything you suggest, I would be happy to hear of any pointers so do let me know in the comments below. I will of course, update once I have completed my mission!
Here is a final parting gift. A list of free downloadable baby apps my toddler loves!
Let me know if I missed anything, I think I have covered it all but we will soon see. Stay tuned for updates!
Best of luck and Bon Voyage!
If you like this article, you may also be interested in this
Related
Tags:
airline regulations
,
baby gear
,
check in
,
easy travel
,
flight plan
,
holiday with babies
,
items for babies
,
items for travelling long haul
,
long distance air travel
,
long haul with kids
,
packing tips
,
plane journey with infants
,
planning your holiday
,
recommendations for travel
,
recommended for holidays
,
travel itinerary for family
,
travel with babies
,
travelling tips
,
what to carry on
,
what to pack