home
Funky Accent Chairs for Fab Pads
Accent chairs are all the rage these days and a great way to brighten up a room. They can be used in any room of the house and are stand out pieces that draw your eye to them. They are a great focal point and there are some amazing designs available at the moment. The cool thing is, they don't have to match your scheme so long as they match in color-wise. The whole idea is that they stand out so you can feel free to go wild with bright and bold colors and fab mix and match prints! Very retro and so cool.
Here are some fun patterned ones I found online and some stunning fabrics including my favorite, the Liberty prints. Oooh so stylish!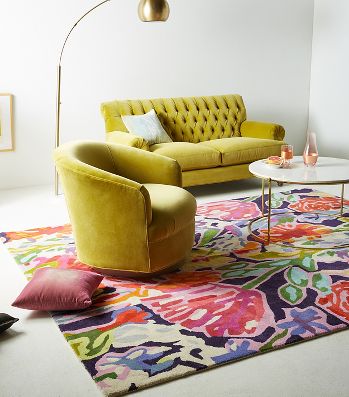 Palace Portrait Chair                                                                             Amoret Swivel Chair
  Liberty for Anthropologie Strawberry Thief Rivona Chair                          Floret Accent Chair
         Dhurrie Accent Chair                                                                           Medina printed Redona Chair
    Flutura Accent Chair                                                                             Badia-Printed Elowen Chair
Floret Accent Chair close-up                                                                            Adina Accent Chair            
      Dhurrie Accent Chair close-up                                                                               Ikat Quentin Chair
(All of the above are from Anthropologie)
Polly Floral Arm chair  
                                                                                                                        Rockwell Arm chair
(Both from Urban Outfitters)
       Tiled Tillie Chair – Anthropologie
Those are all those kind of one-off style chairs so ideally you would have just one rather than trying to match them. They are quite striking so it is better to use them individually as a statement piece or focal point. There are quite a lot of retro styles coming back into fashion so it might be worth your while checking out second hand shops and markets. One mans trash is another mans treasure for sure! You may very well get lucky and find an old velvet retro armchair or patterned piece.
Another way to bring an old chair back to life is to have it re-upholstered in a trendy fabric. There is also the option to paint an old one with fabric paint so you could choose a bright color to make your accent chair stand out. Funky cushions can make a plain color stand out more too. Think Moroccan theme or animal prints for instance. Those Liberty fabrics are really stunning and can be bought through the main site. Designers Guild is another fabulous and striking fabric designer you should check out when looking for inspiration and stand-out and bold designs.
Pattern and color are your best friends right now 🙂
Have some fun mixing and matching!
Let's hope this retro trend is here to stay. If not, its gonna be back again for sure so save those retro items whatever you do x
If you like this, you may also be interested in this
Related
Tags:
accent chairs
,
anthropologie
,
awesome chairs
,
bold designs
,
bold statement
,
bright color chairs
,
colorful fabric chairs
,
cool chairs
,
design
,
detailed chair
,
floral chair
,
focal point
,
funky chairs
,
interior design
,
large prints
,
liberty fabric
,
morroccan style chair
,
pattern
,
patterned chair
,
retro chairs
,
retro style
,
stand-out pieces
,
statement pieces
,
stylish chairs
,
swivel chair
,
unique style chair
,
velvet chair
,
wild color chair